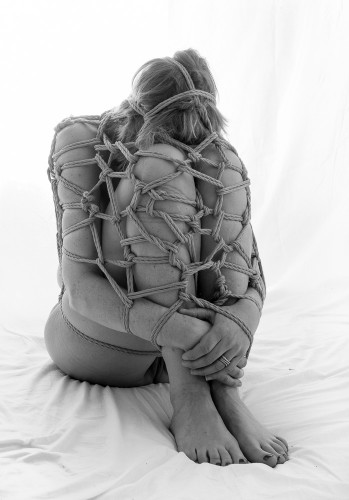 When you are tied, you are free … The skin is our largest sensory organ. When you quietly become wrapped up in the ropes, it's like getting a big hug. When you are tied, there is nothing you can do – you can let go and just enjoy being and sensing the ropes tighten and my fingers touching the skin, tightens the ropes and gently leads you out on a mental journey into your body.
This bondage is very de-stressing and relaxing – also good for "over-active" people, such as individuals with ADHD. One can also see it as very powerful guided mindfulness meditation. In traditional mindfulness and meditation it's up to yourself to focus on clearing your mind, feel your body and focus on being present in the moment. In the Meditative bondage is the ropes and my fingers your guide into the body and helps you to get peace in your mind and come down in the body and just be in the moment.
There are many other kinds of bondage. Ask if you are interested in learning more about Japanese bondage.